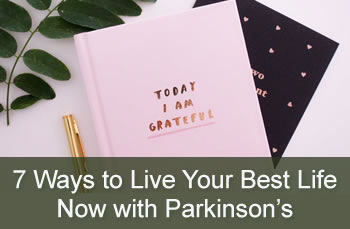 Subscribe to receive notifications about new blog posts and receive 7 Ways to Live Your Best Life Now with Parkinson's.
PD In The Know
Parkinson's disease (PD) is now the world's fastest growing brain disorder, moving ahead of Alzheimer's. Ten million men and women live with Parkinson's world-wide. Over the past 25 years, the number of people with Parkinson's has more than doubled. At this rate, the number will double again in the coming generation. The number of Americans with PD has increased by 35% in the last 10 years alone. One in 15 will get Parkinson's.
Categories
Recent Posts
Looking for Creative People with PD
Is a creative pursuit a healing part of your PD life? Are you an artist, poet, writer, sculptor, photographer, or quilter? Do you make jewelry or furniture? Do you write music?
Would you like to be considered for an interview and have your work showcased here? If so, please contact me.
Quote of the Week
Never doubt that a small group of thoughtful committed citizens can change the world: indeed, it's the only thing that ever has. ~Margaret Mead
Inspirational Danny Kaye Quote
Tatianna– by Linda A. Mohr