Today's  4th of July post is dedicated to Nathaniel Thurber, my great-great-great-great grandfather. In 1998, I learned that I was a descendant of a patriot who served as a soldier during the Revolutionary War and helped contribute to securing the independence of the United States of America. Nathaniel Thurber, son of Daniel Thurber, Sr., and Lois Peck Thurber, was born on April 13, 1761, in Providence, Rhode Island.
The Thurber family history dates back to the 1600s  to a small parish called Stanton, County of Lincolnshire in England, 129 miles from London. As Thurber families left England, they settled in Rehoboth, Massachusetts. Nathaniel enlisted in 1776 and served as a private in the Revolutionary War until 1779 in Massachusetts as well as at the Burning of Bristol, Rhode Island. He married Polly Shores in 1792. They had six children including son James who served in the War of 1812.
With my interest in historical preservation, patriotism and education, the Daughters of the American Revolution was a perfect fit for me. So I embarked on an extended journey to prove lineal descent through such documents as birth, death and marriage certificates, church records, census reports and obituaries.
My Lineal Descent
Nathaniel Thurber, my patriot and great-great-great-great grandfather, 1761-1842
James Thurber, my great-great-great grandfather, 1791-1877
William Thurber, my great-great grandfather, 1827-1866
Laura Thurber Roasa, my great-grandmother, 1865-1944
Gladys Roasa Barr, my grandmother. 1891-1964
Rosemary Barr Mohr, my mother, 1918-2009
Linda Mohr (Me), 1950
My Application is Approved
A longtime dream of mine came true as I was officially welcomed into the National Society  Daughters of the American Revolution at the Seminole Chapter meeting in West Palm Beach on October 11, 2008.
The DAR insignia pin is a beautiful gold wheel. I wear it over my heart with tremendous pride for what those who have gone before me have done. I love the meaning behind each part: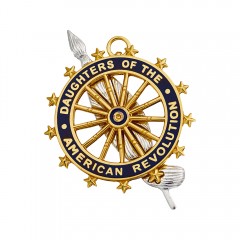 THE HUB: Each loyal Daughter's heart
EACH SPOKE: A thought of those from whom we part
THE TIE: A noble life well rounded out
EACH STAR: A deed of kindness as we go about
EACH FLAXEN THREAD: A cord of love to bind us closer day by day
THE DISTAFF: A rod of love to guide us all the way
10-Year Membership Honor
I celebrated my 10-year membership in 2018 and proudly added this pin to my DAR ribbon of pins.
My contribution to DAR Seminole includes:
Chapter Chairmanships:  Women's Issues 2010-2012 & 2012-2014, Bylaws 2014-2016, DAR School 2018-2020
Chapter Service:  Librarian 2012-2014, Vice Regent 2014-2016, Librarian Appointed 2017-18, Chapter Director 2018-2020
Other:  Meeting Reservations 2009-2010, Benefit Registration 2013-2019, Women's Issues Essay Contest State Winner in Career Category–Encore, 2014, Doing Life with Parkinson's 2015, Wrote and Read Tea Time with Grandma Poem for Seminole Tea 2018, DAR School Project Second Place State Winner 2018, 10-Year Member 2018
President General Van Buren's Call to Challenge: Think Big
On June 30, 2019, Denise Doring VanBuren was installed as President General at the National Society  Daughters of the American Revolution's Continental Congress. In her Rise and Shine for America themed speech, she challenged Daughters to dream big dreams, think big, achieve great things, don't settle for mediocrity, and look for meaningful service opportunities. We can't shuffle along satisfied with the status quo if we are to achieve our Society's full potential she emphasized.
As I considered  President General VanBuren's message, I am blessed to live in America where I have the freedom to contribute in a manner that reflects who I am. I will always be grateful to my great-great-great-great grandfather Nathaniel Thurber who played a part in securing my freedom.
For more information about DAR contact me or visit DAR website, 
Blessings!
Linda